The Role of Dental Blocks in Lip Filler Procedures
At Bellava MedAesthetics, we strive to make lip fillers as quick, comfortable and safe as possible.
Many providers perform a dental nerve block to numb the area beforehand. Below we discuss everything you need to know about dental blocks for lip enhancement.
What Are Lip Fillers?
Injectable dermal fillers add subtle plumpness and definition to the lips and smooth out wrinkles around the mouth. Here at Bellava MedAesthetics, we may use smooth hyaluronic acid fillers like Juvederm and Restylane Silk.
Our expert aesthetic injectors strategically place small amounts of filler along the lip border, in the body of the lips, and around the mouth to achieve gorgeous, natural-looking enhancement.
While the procedure itself is tolerable, dental blocks maximize patient comfort throughout lip injections. This anesthetizes the entire mouth region beforehand for a painless experience.
Dental Block for Lip Filler
A dental block refers to injecting a local anesthetic agent such as lidocaine into the nerves around the lips to numb the area for lip filler procedures.
A dental block involves injecting the anesthetic directly into the infraorbital and mental nerves through the gum and inner lip to numb the lip area. This allows for more comfortable lip injections compared to just using topical anesthetics on the surface of the lips.
Some patients may choose to get a dental block while others opt to only use topical numbing agents, depending on their pain tolerance. Dental blocks provide profound anesthesia and eliminate pain from the needle injections during lip fillers.
Purpose of a Dental Block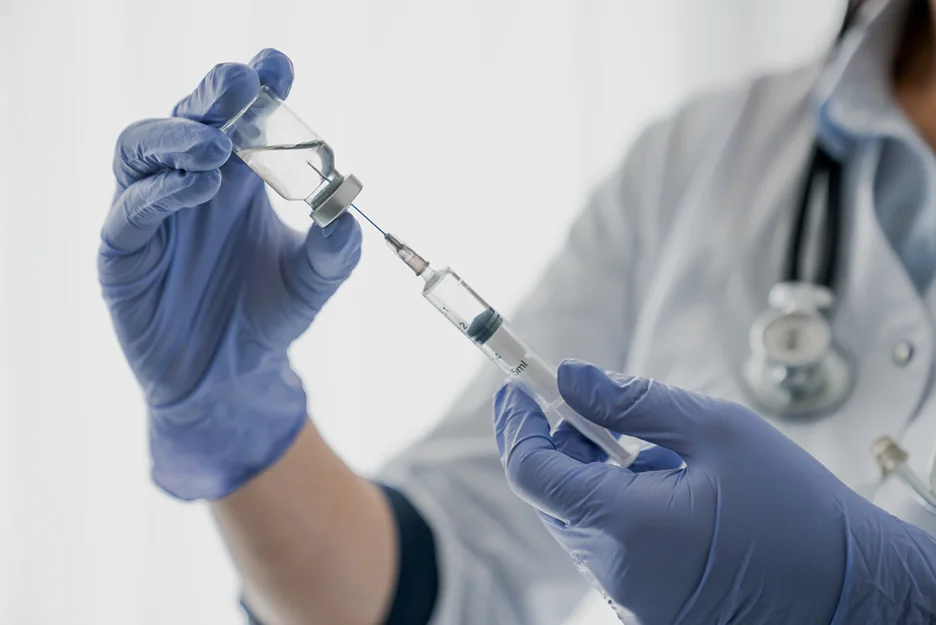 A dental, mandibular, or nerve block involves injecting local anesthetic into specific facial nerves that provide sensation to the lips, mouth and lower face. This causes temporary numbness so you don't feel the lip filler injections.
Benefits of dental blocks include:
Allows painless injection of the lips and mouth area
Prevents discomfort from the filler needle penetrating sensitive lip tissues
Patient can fully relax without feeling the procedure
Eliminates needle phobia for a calmer experience
Reduces risk of flinching or sudden moves during treatment
Enables provider to perform injections smoothly without causing pain
Optimizes results since the provider can take their time knowing the patient is comfortable
With the mouth region completely numb from dental block anesthesia, lip fillers are easy and pain-free.
How Dental Blocks Work
Dental nerve blocks use local anesthetics like lidocaine to interrupt pain signals traveling along the trigeminal and mental nerves to the brain.
The trigeminal nerve provides sensation to the upper lip, while the mental nerve innervates the lower lip. Blocking these nerves temporarily prevents lip sensation so you don't feel the lip filler needle.
The anesthetic numbs nerves by preventing sodium channels from opening to initiate action potentials. This blocks painful impulses but leaves touch sensation intact.
Effects start within 5 minutes and lasts about 1-2 hours. The dental block wears off gradually as the anesthetic metabolizes. Full lip sensation returns a couple hours after the procedure.
Technique for Dental Block Injections
Administering dental blocks takes precision and experience. Our expert nurse injectors are specially trained to perform nerve blocks safely and comfortably.
Here is the technique we use at Bellava MedAesthetics:
The mouth area is cleaned and prepped for injections. A topical anesthetic cream or gel may be applied first to numb the skin.
Using a very fine needle, the provider will gently inject local anesthetic like lidocaine near the infraorbital nerve under the upper lip. This blocks sensation to the upper lip and front teeth.
Another injection is carefully administered inside the mouth near the mental nerve to numb the lower lip and chin.
A total of about 1-2mL of lidocaine is typically needed. The process takes just 1-2 minutes.
Within 5 minutes, the upper and lower lips/mouth will start to feel numb. Effects peak in 10-15 minutes for complete anesthesia.
Once fully numb, the lip filler procedure can begin pain-free.
Our skilled injectors make the dental block process quick and comfortable thanks to their expertise. The pre-treatment numbness allows you to relax through the entire lip appointment.
What to Expect During & After a Dental Block
Patients may feel the following sensations during and after receiving dental block anesthesia:
Mild pinching/stinging from the dental block injections that resolves
Numbness and tingling around the lips, teeth and mouth within minutes
Feeling of fullness or pressure in the lips
Periodic tingling as the anesthetic wears off over 1-2 hours
Slight soreness at injection sites lasting a day or two
Rarely, minimal bruising or skin redness for 1-3 days
These are normal responses that quickly improve. The benefits of the dental block far outweigh the temporary effects.
Within a few hours, your mouth will feel completely back to normal. It is safe to eat, drink, and perform oral hygiene as usual. The dental block does not affect lip function.
Is a Dental Block Necessary for Lip Fillers?
While completely optional, we recommend dental nerve blocks for lip enhancement procedures at Bellava MedAesthetics.
The profound numbness allows us to perform filler injections gently and smoothly without causing any discomfort. Patients can fully relax knowing they won't feel the needle penetration.
However, qualified injectors can make lip fillers relatively comfortable even without a dental block by:
Applying a topical numbing cream before injections
Using tiny needles and precision technique
Administering filler slowly and carefully into the lip tissues
Having the patient use cold air inhalation as a distraction technique
Offering laughing gas as an alternative sedation method
So while dental blocks maximize comfort, they aren't mandatory. Discuss options with your provider to decide what's right for you.
FAQs About Dental Blocks for Lip Fillers
Below we answer some common questions about dental nerve blocks for lip enhancement:
Are lip fillers painful with a dental block?
No, lip fillers are generally painless when performed under dental block anesthesia thanks to the profound numbness.
How long does a dental block last for lip fillers?
A dental block provides complete lip numbness for 1-2 hours on average, long enough to perform the filler procedure pain-free.
Do lip fillers hurt more after the numbness wears off?
You shouldn't feel the actual filler injections after the numbness subsides. Mild tenderness from tissue trauma may occur for a few days.
Is lidocaine used for dental blocks?
Yes, lidocaine is the common numbing medication injected to block lip sensory nerves. Effects last about 1-2 hours.
What are the risks of dental blocks?
When performed by a qualified injector, risks like bleeding, swelling, bruising and nerve injury are very low. Temporary numbness is expected.
How long does it take for a dental block injection to work?
You'll start feeling numbness in the lips/mouth within 5 minutes, with peak effects in 10-15 minutes for adequate anesthesia.
How many injections are needed for a dental block?
Most providers perform 2-3 injections around the upper and lower lips. About 1-2mL of anesthetic is needed altogether.
Do I need a driver after a dental block?
No, you can drive yourself to/from your lip appointment after dental block anesthesia since it does not impair mental function.
Will the dental block affect my speech?
Your lips and mouth may feel slightly numb immediately after the block, but this won't significantly affect speech. The numbness resolves within a few hours.
Experience Our Caring, Gentle Approach
We hope this guide helps you understand the purpose and technique of dental blocks to maximize comfort during lip filler treatments. While optional, we highly recommend this effective anesthetic option.
Contact Bellava MedAesthetics today to meet our team of lip enhancement experts. We're here to answer all your questions and provide a five-star experience!